The flagship property of Starcore International Mines is the San Martin gold and silver mine. The mine has been in operation since 1993 at 350tpd and currently operates at 850tpd. The mine was acquired by Starcore in February of 2008 from Goldcorp who had acquired the asset through the takeover of Wheaton River. The mine is an underground epithermal deposit with gold quartz based limestone and has an average gold grade of 2.31 grams and 18 grams of silver ( NI 43-101 2014 Dave Gunning, Joe Campbell). The historical production of the mine is over half a million ounces and the mine sits on 100% owned claim package of 5,000 hectares, which offers the upside of exploration and the possibility of discovering the source of the current mineralization.
Location
The San Martin project is located 50 km east of the City of Querétaro in Querétaro State, and about 250km northwest of Mexico City. The city of Queretaro boasts a population of over 1 million people and is one of the safest states in Mexico. Major companies such as Bombardier Aerospace, Safran, Eurocopter, and Canada's Héroux-Dvetek all have operations in Queretaro.
In 1982, the area of San Martin was declared a National Reserve; however, by 1986, Luismin (previous owner) had reached an agreement to conduct exploration/exploitation in the area. Mining began in 1993 at 300 tpd and the production increased on a yearly basis to the present rate of 600 tpd with the capacity of 900 tpd.
Geology
High grade mineralization was discovered at San Martin in the 18th Century, and is reported to have been mined over a period of 40 years; however, no production records exist. Between 1900 and 1924, an estimated 250,000 tonnes grading 15 g Au/t and 100 g Ag/t was reportedly mined. Mineralization occurs in Upper Cretaceous black limestone and calcareous shales of the Soyatal Mexcala Formation as electrum, and silver selenide minerals principally associated with quartz and to a lesser degree with calcite. The deposit is an epithermal, probably high sulphidation precious metal (Ag-Au) type (metal ratio Au:Ag at 1:10), related to a Tertiary dacitic/andesitic intrusive dome.
Mineralization is generally made up of breccia that commonly is concordant with a limestone/shale contact (in the San Martin and San Jose areas) which forms the relatively steeply dipping tronco deposits, these troncos contact the younger volcanic flows (dacite and ignimbrite) where they have formed the more horizontal manto portions of the deposit. The mineralized economic breccia grades from 30 g Ag/t to 250 g Ag/t. Exploration has been concentrated along the NE trending breccia zone however evidence of a northerly trend in area 30 leads us to suspect possible other structures together with 2.0 g Au/t to 30 g Au/t over widths that vary from 1.0 to 17.0 m but average 4.0 m.
Exploration and Development
The San Martin mine properties are comprised of mining concessions covering 13,077 hectares. In addition to the ongoing mine exploration and development that is currently being performed in the development of the mine, management is continually assessing the potential for further exploration and development of the San Martin properties and continually modifying the exploration budget accordingly.
The mine operates two underground and one surface drill rigs to provide information to assist with mine planning in addition to exploration, with the intent of increasing the reserves and resources on the property, and the Company is budgeting targets of approximately 10,000 meters of underground development and exploration drilling annually.
New Exploration Results in Northwest BDD AREA 33, 2021/2022 
*See press release dated April 6, 2022
A total of 9,140 meters were drilled in 2021 until the end of March 2022 which focused on two areas of the mine: the first focusing on the northwest part of the operating mine, and the second searching for the extension of the orebodies of high-grade discovered during the 30 years of the mine's life.  
DRILLING HIGHLIGHTS – BDD AREA 33
| | | |
| --- | --- | --- |
| #8 – DC3221-10; 3.00 m @ | 7.36 g/t Au | 28 g/t Ag |
| #10 – DC3221-11; 8.00 m @ | 2.21 g/t Au | 26 g/t Ag |
| #12 – DC3221 – 12; 0.50 m @ | 16.27 g/t Au | 7 g/t Ag |
| #16 – DC3221 – 15; 0.60 m @ | 12.20 g/t Au | 10 g/t Ag |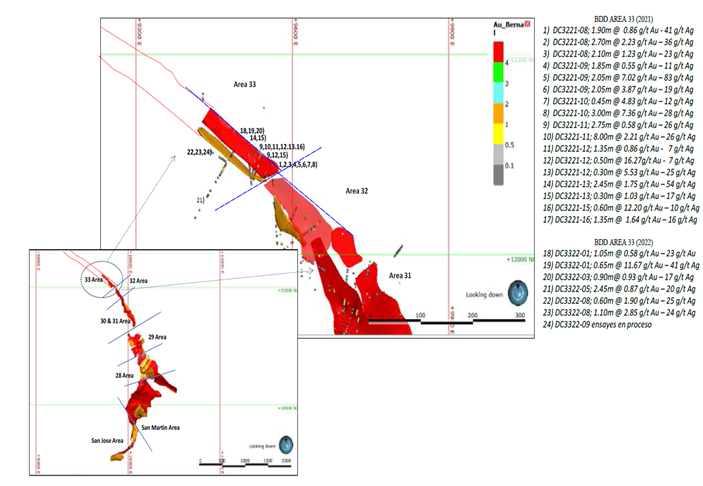 New Exploration Results in the Eastern BDD AREA 28, 2021/2022 
This other area is in the eastern part of the operating mine. See figure 2
DRILLING HIGHLIGHTS BDD AREA 28
| | | |
| --- | --- | --- |
| #2 – DC2820 - 214; 2.40 m @ | 2.14 g/t Au | 57 g/t Ag |
| #3– DC2820 - 215; 2.95 m @ | 2.42 g/t Au | 21 g/t Ag |
| #4 – DC2820 - 217; 2.15 m @ | 8.08 g/t Au | 15g/t Ag |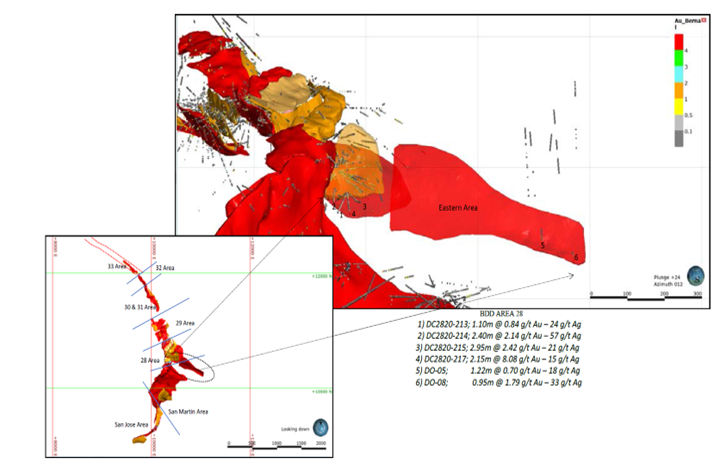 Fig2 – Eastern section of the San Martin Mine
This new vein was discovered in 2021 with 4 DD holes and the development works continue. This new vein is related to a vein discovered more than 15 years ago through a hole located 500 meters far away. Exploration continues with the development of drilling stations along the projection vein.

"We continue to find new structures and transfer resources to reserves."
Robert Eadie CEO, Starcore
Reserves & Resources
Reserves and Resources for the San Martin Mine April 30, 2022
Starcore International Mines, San Martin Mine Mineral Reserves and Resources
As of April 30, 2022

Reserve and Resource cut-off grades are based on a 1.41 g/t gold equivalent.
Metallurgical Recoveries of 86% gold and 55% silver.
Minimum mining widths of 2.0 meters.
Dilution factor of 20%.
Gold equivalents based on a 1:79.5 gold: silver ratio.
Price assumptions of $1750 per ounce for gold and $22 per ounce for silver.
Erme Enriquez C.P.G., BSc, MSc., is an independent consultant to the Company. He is a qualified person on the project as required under NI 43-101 and has prepared the technical information contained in this press release.