---
Vancouver, B.C. – Starcore International Mines Ltd. (TSX: SAM) ("Starcore" or the "Company") has filed the results for the year end dated April 30, 2019 for the Company and its mining operations in Queretaro, Mexico and toll processing operations in Matehuala, Mexico. The full version of the Company's Financial Statements and Management's Discussion and Analysis can be viewed on the Company's website at www.starcore.com, or SEDAR at www.sedar.com. All financial information is prepared in accordance with IFRS and all dollar amounts are expressed in thousands of Canadian dollars unless otherwise indicated.
Financial Highlights for the year ending April 30, 2019 (audited):
Cash on hand is $2.5 million at April 30, 2019;
Gold and silver sales of $32.8 million, including $5.7 million of purchased concentrate processing revenue;
Net loss of $11.8 million, or $0.24 per share, which includes a non-cash impairment charge of $4.8 million against mining assets;
EBITDA(1) of $(24);
The following table contains selected highlights from the Company's audited consolidated statement of operations for the year ended April 30, 2019 and April 30, 2018: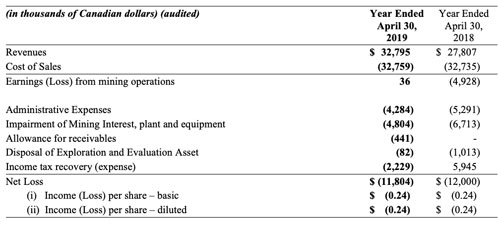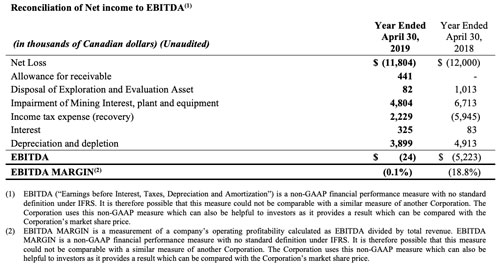 Production Highlights for the year ended April 30, 2019:
Equivalent gold production of 16,392 ounces;
Mine operating cash cost of US$1,061/EqOz;
All-in sustaining costs of US$1,336/EqOz;
The following table is a summary of mine production statistics for the San Martin mine three and twelve months ended April 30, 2019 and for the previous twelve months ended April 30, 2018: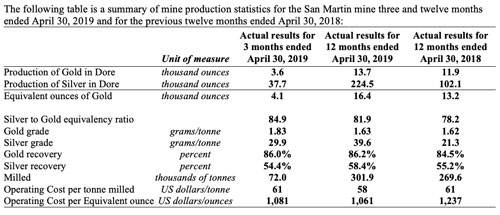 About Starcore
Starcore International Mines is engaged in precious metals production with focus and experience in Mexico. This base of producing assets is complemented by exploration and development projects throughout North America. The company is a leader in Corporate Social Responsibility and advocates value driven decisions that will increase long term shareholder value. You can find more information on the investor friendly website here: www.starcore.com.
ON BEHALF OF STARCORE INTERNATIONAL
MINES LTD.
Signed "Gary Arca"                                                       
Gary Arca, Chief Financial Officer and Director
FOR FURTHER INFORMATION PLEASE CONTACT:
GARY ARCA
Telephone: (604) 602-4935
Facsimile: 1-604-602-4936
The Toronto Stock Exchange has not reviewed nor does it accept responsibility for the adequacy or accuracy of this press release.