---
Vancouver, B.C. - Starcore International Mines Ltd. (the "Company") is pleased to announce that its wholly-owned subsidiary (Compañìa Minera Peña de Bernal, S.A. de C.V.) has won the Silver Helmet safety award for the fourth time for its operations at San Martin Mines located in central Mexico. The Company was granted the award under the category of "Underground Mining Operations employing less than 500 people."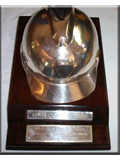 Since 1987, in its efforts to increase safety awareness and practices by operating mines, the Mexican Mining Chamber established the Silver Helmet, an award granted to companies with the best safety record in six different categories, of which Underground Mining Operations is one.

The Silver Helmet is normally kept by a recipient company for a full year until the next year's recipient; however, if a company receives the award for three years, it is allowed to keep the award permanently. "It is a source of particular pride that Starcore's mining operations have been granted the Silver Helmet for the fourth time, said Robert Eadie, Starcore's President and Chief Executive Officer. The Silver Helmet is proudly displayed at its permanent home in San Martin and we hope to continue being the recipient of this award as our operations continue to grow."

The Silver Helmet award was presented during the opening ceremonies at the Mexican Mining Convention recently held in Veracruz, Mexico.

The Company also announces that an aggregate of 8,300,000 incentive stock options have been granted to directors, consultants and key employees at an exercise price of $0.15 per share. The options are exercisable for a period of five years, ending on November 9, 2014, and are subject to the requirements of the Toronto Stock Exchange and the vesting provisions as provided for in the Company's Stock Option Plan.

For more information on the Company visit our website at www.starcore.com.

ON BEHALF OF STARCORE INTERNATIONAL
MINES LTD.

Signed "Robert Eadie"
Robert Eadie, President & CEO

FOR FURTHER INFORMATION PLEASE CONTACT: Robert Eadie
Telephone: 1-604-602-4935
Toll Free: 1-866-602-4935 / Facsimile: 1-604-602-4936

The Toronto Stock Exchange has not reviewed nor does it accept responsibility for the adequacy or accuracy of this press release.