Geology and Mineralization
The geology of Opodepe Project is focused on precios metals and is located in north zone of Meztli 4  claims where the El Creston deposit is located The host rock is a granite (Late Cretaceous – Early Tertiary). Within this lithology and distant to the Mo-Cu Porphyry deposit, there is an Epithermal Low Sulfidation deposit. The geological behavior is a shear zone.
The targets discovered in the Project are filon type an the area 9: Mana System, Karla System, El Guerigo Breccia, Area NOM, Midas Vein, San Gerónimo, La Aurora, La Última and El Oro (other claim). Each of these discovered targets was identified as a surface anomaly zone, however, the true potential is found in length of the structures and diversification of structures that are presented in the Starcore concessions.
The mineralization observed in the different Starcore structures is variable, but the behavior is always vein-type, and the mineralization occurs mainly on: silicification areas, oxides with gray quartz fragments zones, formal quartz veins and propylitic alteration zones. 
Exploration Program 2021
The Company conducted a six-month exploration plan which included more than 1600 samples taken in the outcrops of nine new discovered veins in the Teocuitla claims, with a focus on gold and silver orebodies. The initial results of the exploration program are outlined below:
Table 1:  Assay Results of the samples taken from MEZTLI4 and TEOCUITLA Claims
# Targets
Target
Claim
Recognized surface length (mt)
Economic length (mt)Surface
Economic width (mt) Surface
Aug/t
Agg/t
1
Mana System
Meztli4
2100
300
1.07
0.52
250
2
Karla System NW
1815
280
0.53
3.52
13
3
Karla System SW
480
190
0.61
1.53
64
4
El Guerigo Breccia
1800
110
0.98
0.11
162
5
San Gerónimo
Stockpile Samples
0.40
214
6
Midas Vein
New claims
acquired
580
190
0.73
0.09
147
7
La Aurora - La Espinada Vein
Stockpile Samples
0.21
241
8
La Última
Old mining non visited
9
El Oro
Other claim
500
70
0.53
10.30
5
Exploration Phase 1
There  have been five kilometers  of roads on Meztli 4 Claim focused on giving the Company Access to the main structures: Mana System, Karla System, NOM Area and El Guerigo Breccia. However, there are more structures that do not need Access roads: San Gerónimo, Midas Vein, La Aurora, La Ultima, and El Oro vein extension.
In many areas of Starcore's claims, it is normal to find old mining activity of the different geological structures. 
Midas vein is composed of a formal quatrz vein, with a width 0.30cm – 3.0mt, Midas vein is located on Teocuita Claim (recently adquired). Midas, presents the largest number of old mining activity.
San Gerónimo Vein is another other geological structure with big áreas of old dumps with médium grade silver and also has ruins of a mineral smelting plant.  
Mana System is the continuation of the San Riccardo vein and it is located in Meztli 4. This geological structure has a geological thicknesses of 3.0m -100m and has a length of >2.5km.
In many areas it is possible to see old mining activity however on the Midas Vein and San Gerónimo, it is common to see large areas of old dumps.
Drilling Program 2021
On November 8, 2021, the Company announced the start of a diamond drill hole exploration program on its MEZTLI 4 and TEOCUITLA claims located in Opodepe, Sonora, Mexico. This first stage explores five different veins that were discovered after more than eight months of geological works with more than 1600 samples, assays and metallurgical tests done. The results of which formed the direction of the current exploration program (see Fig. 4).
As reported in its news release of August 17, 2021, the Opodepe project represents a three-dimensional prospect for Starcore with possibilities as a moly deposit, or as a property with gold showings, and thirdly as a project with the potential for copper porphyry at depth. These concessions of 11,364 hectares (the MEZTLI 4 claims) have never been explored for precious metals. With the acquisition of 3,087 hectares northwest of the MEZTLI 4 claims (the TEOCUITLA concessions), Starcore now has a total of 14,451 hectares to explore, with five veins identified thus far for the initial stage of drilling.
 
Map Showing The 5 Veins To Be Explored First Stage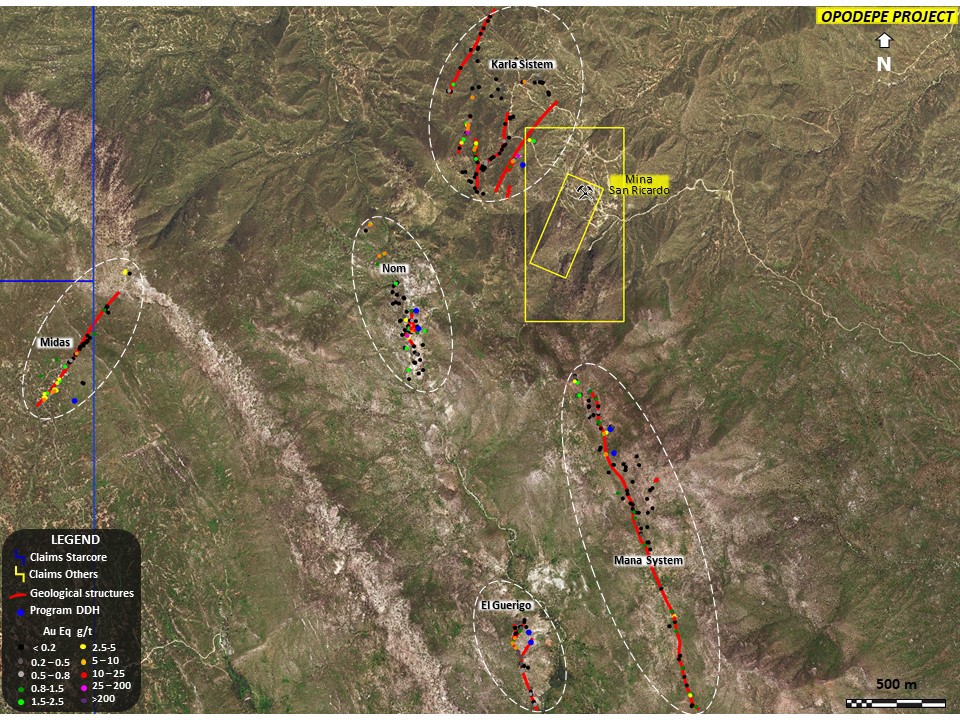 4 DHH First Stage Program
DDH SCHEDULE 2021
Target
Company
Claim
Holes
Category
Meters
ManaSystem
  Contractor
Meztli 4
8
Greenfield
620
Nom
Meztli 4
7
Greenfield
630
ElGuerigo
Meztli 4
7
Greenfield
450
Karlas
Meztli 4
3
Greenfield
500
Midas
 
Teocuitla
2
Greenfield
300
Total
27
 
2500
Qualified Person
Salvador Garcia, B. Eng., a director of the Company and Chief Operating Officer, is the Company's qualified person on the project as required under NI 43-101 and has prepared the technical information contained in this press release.