Starcore International Mines owns 100% of 165 claims on the Toiyabe property in Southwest Elko, Nevada. The Toiyabe property boasts some demonstrated similar structural characteristics to the Cortez, Cortez Hills and Pipeline deposits. The 2009 NI 43-101 report prepared by Paul D. Noland, P. Geo, highlights an indicated resource at 0.01 opt (ounce per ton) gold cutoff that is 173,562 contained ounces of gold. This equates to 4,975,000 tons at an average grade of 0.0349 ounces per ton. This resource estimation utilized drill results from ACM drilling as well as historic drilling.
The Toiyabe Project is located approximately 78 miles south-southwest of Elko, Nevada and is located only six miles south from one of Barrick Gold's 5 core mines, Cortez Hills, which hosts over 9.9 million oz1. Other recent nearby discoveries include the ET Blue project 6 miles east and Red Hill about 10 miles east. Each of the discoveries is currently under development by Barrick, and is similar in genesis and host rocks to Toiyabe.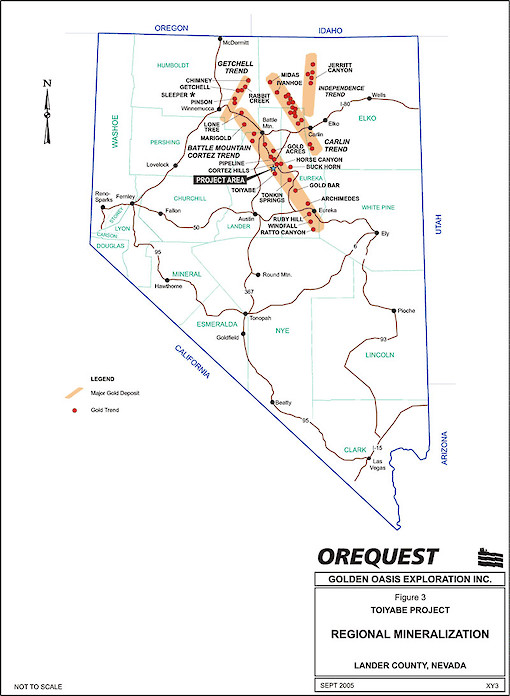 Lower plate carbonate rich sediments are exposed below the Roberts Mountain Thrust within an area called the Cortez window. These lower plate sediments host over 90% of the gold found within the Carlin and Battle Mountain- Eureka trends. In the Toiyabe project area gold mineralization is hosted within a similar geologic setting. The stratigraphy, structure and alteration are analogous to that found at nearby Cortez, Cortez Hills, Pediment, Horse Canyon and Pipeline deposits.
Restricted areas of close-spaced drilling of the near surface (less than 400 ft) have been conducted on the property starting in 1979 and extending to the present. Available records suggest that approximately 243 holes have been completed on the subject property, of which 159 have detailed records and assays available. This drilling indicates potential for additional gold mineralization at relatively shallow depths.
Toiyabe contains at least two strongly mineralized fault zones with strong gold values on surface and in drilling. This evidence demonstrates the potential for gold-mineralizing fluids to travel from a deeper source through reactive, lower plate, carbonate rocks to the shallow mineralization encountered to date at Toiyabe. Several deeper drill holes have encountered low to moderate gold mineralization erratically distributed through comparable stratigraphy in nearby producing mines. Although the necessary structural complexities and traps required to host a large economic gold occurrence have yet to be encountered, a recent re-interpretation of stratigraphy and structure by Paul D. Noland indicates that this environment likely exists within the Toiyabe project boundary and may be responsible for at least some of the mineralization encountered within less favorable, upper plate lithologies.
Since 2006, Golden Oasis (later ACM) has conducted an intensive program of geologic mapping, geophysical surveys, compilation and drilling. This work has increased the knowledge of the mineralized system, identified a drill defined resource, and helped define at least five viable targets for further exploration. ACM had anticipated continuing exploration of the Courtney target. To date ACM's work has identified the favorable stratigraphy and potential feeder faults sufficiently that deeper drilling of Pipeline style targets is recommended. A single 1,500 feet long angle core hole is recommended in order to test favorable host rocks adjacent to one of the more favorable north-northwest feeder faults.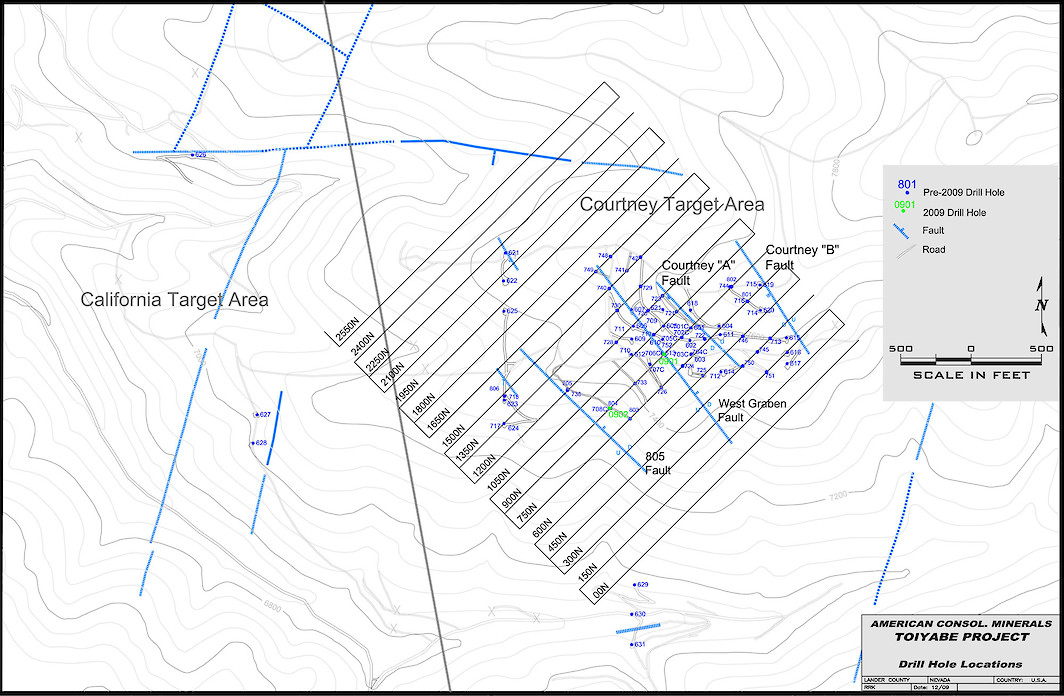 Toiyabe Project 2016 Phase 1 Initial Assay Results
Hole ID
AZIMUTH
INCL
T DEPTH (m)
FROM (m) TO (m)
THICKNESS (meters)
Au g/t
T-1601
NA
-90
140.2
77.7
112.8
35.1
0.31
T-1601C
NA
-90
390.4
269.1
294.1
40.2
1.30
 
includes
 
 
255.4
258.5
3
7.70
 
includes
 
 
255.4
256.9
1.5
12.90
T-1602
NA
-90
134.1
67.1
80.8
13.7
0.16
T-1607
NA
-90
196.6
13.7
16.8
3
1.90
T-1608
NA
-90
208.8
120.4
123.4
3
0.16
 
 
 
 
132.6
138.7
6.1
0.32
 
 
 
 
146.3
164.6
18.3
0.46
 
 
 
 
179.8
192.0
12.2
0.13
T-1609
45
-60
91.4
32.0
33.5
1.5
0.88
T-1611
NA
-90
213.3
NSV
 
 
 
T-1612
NA
-90
342.9
193.5
201.2
7.6
0.11
T-1613
NA
-90
315.5
76.2
89.9
13.7
0.27
T-1615
45
-45
163.1
82.3
89.9
7.6
0.23
 
 
 
 
99.1
103.6
4.6
0.24
T1616
45
-45
152.4
41.1
48.8
7.6
0.13
 
 
 
 
36.6
76.2
39.6
0.15
T-1618
45
-45
91.4
7.6
12.2
4.6
0.28
 
 
 
 
82.3
83.8
1.5
0.82
T-1619
45
-45
121.9
38.1
44.2
6.1
1.07
T-1620
45
-45
121.9
108.2
114.3
6.1
0.16
T-1621
45
-45
121.9
68.6
74.7
6.1
1.08
T-1622
45
-45
121.9
50.3
53.3
3
3.10